Dissertation contents page
The contents page is where you list the chapters and major sections of your dissertation, along with their page numbers. A clear and well-formatted contents page is essential as it indicates a quality paper is to follow.
The table of contents belongs between the abstract and the introduction. The maximum length should be two pages.
Example of a contents page
The key features of a contents page are:
A page title
Clear headings and subheadings
Page numbers that indicate where in the dissertation each section can be found
Check with your university or other educational institution to see if there are any specific formatting requirements you must adhere to.
What to include in your table of contents
All level one and two headings should be included in the table of contents. Level three headings are optional and should be omitted if you run over two pages.
Examples of level one headings are Introduction, Literature Review, Methodology and Bibliography. Subsections of each of these would be level two headings, and further subsections would be level three.
Example of heading levels
Level one → Chapter 3. Methodology
Level two → 3.1 Sampling Method
Level three → 3.1.1 Participant Recruitment
Be sure to use clear headings throughout the document so that the table of contents is easy to navigate. Remember, the reader will see the table of contents before reading and understanding the rest of your dissertation.
Appendices and tables
You should include all appendices in your table of contents. Whether or not you include tables and figures depends largely on how many there are in your dissertation.
If there are more than three figures and tables, you might consider listing them on a separate page. Otherwise, you can include each one in the table of contents. Learn more about lists of figures and tables.
What not to include
You do not include the acknowledgements, abstract or table of contents itself on the contents page. The first two are located before the table of contents, so the reader has already seen these pages when they reach this section.
Automatically creating a table of contents in Word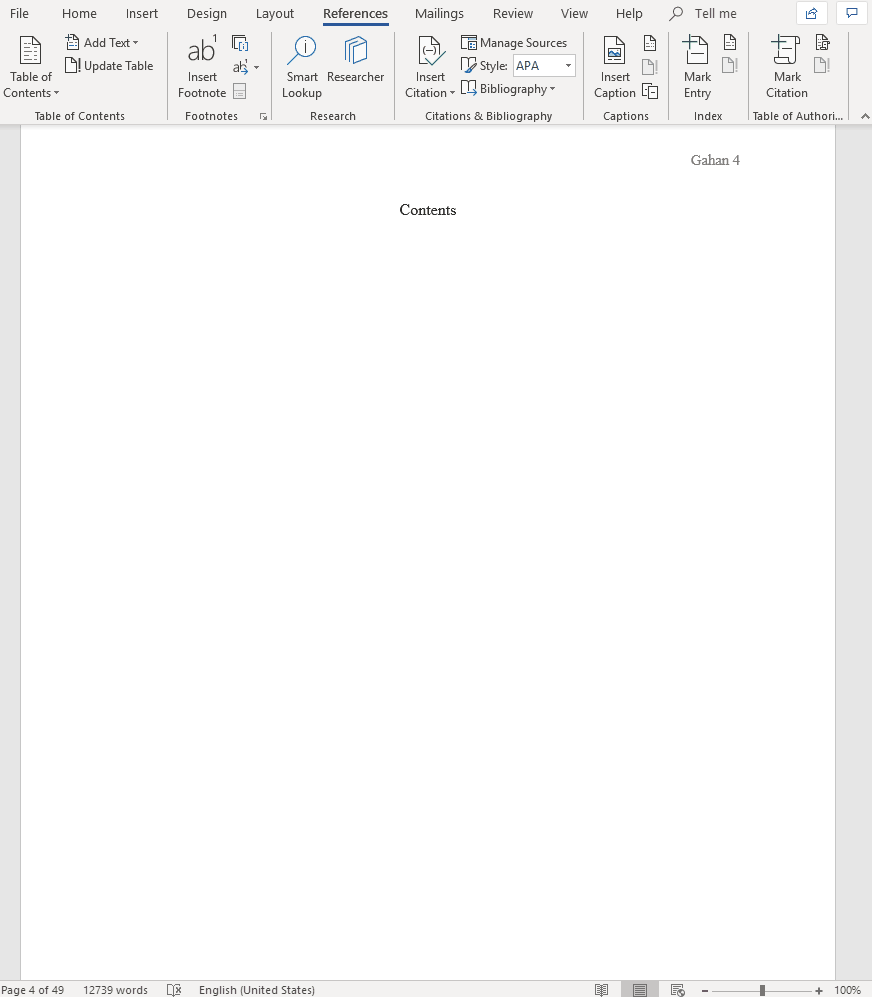 To automatically insert a table of contents in Microsoft Word, you must apply heading styles throughout the document.
Once you have done that, follow these steps:
Add a title on your contents page. Be sure to follow the standard format for your citation style or as per your university/department guidelines.
Place your cursor where your table of contents should go.
In the references section in the ribbon, locate the Table of Contents group.
Click the arrow next to the Table of Contents icon and select Custom Table of Contents. Here you can select which levels of headings you would like to include in the table of contents and also make manual adjustments to each level by clicking the Modify button.
When you are ready to insert the table of contents, click OK and it will be automatically generated.
Applying heading styles
There are two steps to apply heading styles in your document. First, you must set the style for each heading level. Second, you must allocate each heading a level using Word's tools.
Creating heading styles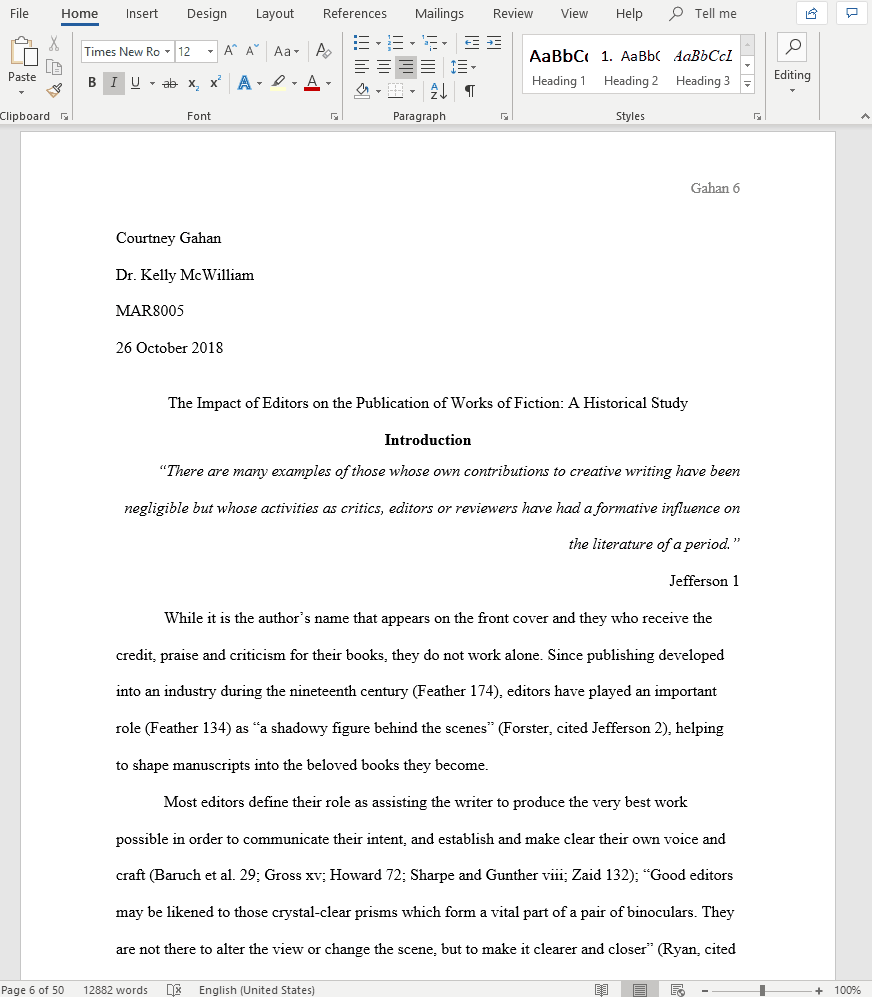 Follow these instructions to set heading styles:
Allocate the type of formatting you want to each different heading level. E.g. if all level one headings should be Times New Roman, 12 pt and bold, add this formatting to the first level one heading.
To set this formatting as automatic for all level one headings, find the Styles section on the home tab.
Highlight the level one heading and then right click the style that says Heading 1.
Select Update Heading 1 to Match Selection.
To allocate the formatting for each heading throughout the rest of the document, highlight the headings in question and click the styles you wish to apply.
Automatically updating the table of contents
We advise students to update their table of contents as one of the final tasks before submitting or printing their dissertation, as text can move during the final revision process and it is vital that the page numbers are accurate.
Word makes it easy to do this update automatically. Simply right click the table of contents and select Update Field. You can choose to update page numbers only or update all information in the table.
Other lists in your dissertation
In addition to a contents page, you might also want to include a list of figures and tables, a list of abbreviations and a glossary in your dissertation. You can use the following guides to do so:
You have already voted. Thanks :-)
Your vote is saved :-)
Processing your vote...