What Is a Dissertation? | 5 Essential Questions to Get Started
A dissertation is a large research project undertaken at the end of a degree. It involves in-depth consideration of a problem or question chosen by the student. It is usually the largest (and final) piece of written work produced during a degree.
The length and structure of a dissertation vary widely depending on the level and field of study. However, there are some key questions that can help you understand the requirements and get started on your dissertation project.
When and why do you have to write a dissertation?
A dissertation, sometimes called a thesis, comes at the end of an undergraduate or postgraduate degree. It is a larger project than the other essays you've written, requiring a higher word count and a greater depth of research.
You'll generally work on your dissertation during the final year of your degree, over a longer period than you would take for a standard essay. For example, the dissertation might be your main focus for the last six months of your degree.
Why is the dissertation important?
The dissertation is a test of your capacity for independent research. You are given a lot of autonomy in writing your dissertation: you come up with your own ideas, conduct your own research, and write and structure the text by yourself.
This means that it is an important preparation for your future, whether you continue in academia or not: it teaches you to manage your own time, generate original ideas, and work independently.
Who will supervise your dissertation?
During the planning and writing of your dissertation, you'll work with a supervisor from your department. The supervisor's job is to give you feedback and advice throughout the process.
The dissertation supervisor is often assigned by the department, but you might be allowed to indicate preferences or approach potential supervisors. If so, try to pick someone who is familiar with your chosen topic, whom you get along with on a personal level, and whose feedback you've found useful in the past.
How will your supervisor help you?
Your supervisor is there to guide you through the dissertation project, but you're still working independently. They can give feedback on your ideas, but not come up with ideas for you.
You may need to take the initiative to request an initial meeting with your supervisor. Then you can plan out your future meetings and set reasonable deadlines for things like completion of data collection, a structure outline, a first chapter, a first draft, and so on.
Make sure to prepare in advance for your meetings. Formulate your ideas as fully as you can, and determine where exactly you're having difficulties so you can ask your supervisor for specific advice.
What type of research will you do?
Your approach to your dissertation will vary depending on your field of study. The first thing to consider is whether you will do empirical research, which involves collecting original data, or non-empirical research, which involves analysing sources.
Empirical dissertations (sciences)
An empirical dissertation focuses on collecting and analysing original data. You'll usually write this type of dissertation if you are studying a subject in the sciences or social sciences.
There are many different empirical research methods you can use to answer these questions – for example, experiments, observations, surveys, and interviews.
When doing empirical research, you need to consider things like the variables you will investigate, the reliability and validity of your measurements, and your sampling method. The aim is to produce robust, reproducible scientific knowledge.
Non-empirical dissertations (arts and humanities)
A non-empirical dissertation works with existing research or other texts, presenting original analysis, critique and argumentation, but no original data. This approach is typical of arts and humanities subjects.
The first steps in this type of dissertation are to decide on your topic and begin collecting your primary and secondary sources.
Primary sources are the direct objects of your research. They give you first-hand evidence about your subject. Examples of primary sources include novels, artworks and historical documents.
Secondary sources provide information that informs your analysis. They describe, interpret, or evaluate information from primary sources. For example, you might consider previous analyses of the novel or author you are working on, or theoretical texts that you plan to apply to your primary sources.
How should your dissertation be structured?
Dissertations are divided into chapters and sections. Empirical dissertations usually follow a standard structure, while non-empirical dissertations are more flexible.
Structure of an empirical dissertation
Empirical dissertations generally include these chapters:
Sometimes the order or naming of chapters might be slightly different, but all of the above information must be included in order to produce thorough, valid scientific research.
Other dissertation structures
If your dissertation doesn't involve data collection, your structure is more flexible. You can think of it like an extended essay – the text should be logically organised in a way that serves your argument:
Introduction: An explanation of your topic and the question(s) you want to answer.
Main body: The development of your analysis, usually divided into 2–4 chapters.
Conclusion: Answers to your research question(s) and summary of what your analysis contributes to knowledge in your field.
The chapters of the main body can be organised around different themes, time periods, or texts. Below you can see some example structures for dissertations in different subjects.
This example, on the topic of the British press's coverage of the French Revolution, shows how you might structure each chapter around a specific theme.


This example, on the topic of Plato's and More's influences on utopian socialist thought, shows a different approach to dividing the chapters by theme.


This example, a master's dissertation on the topic of how writers respond to persecution, shows how you can also use section headings within each chapter. Each of the three chapters deals with a specific text, while the sections are organised thematically.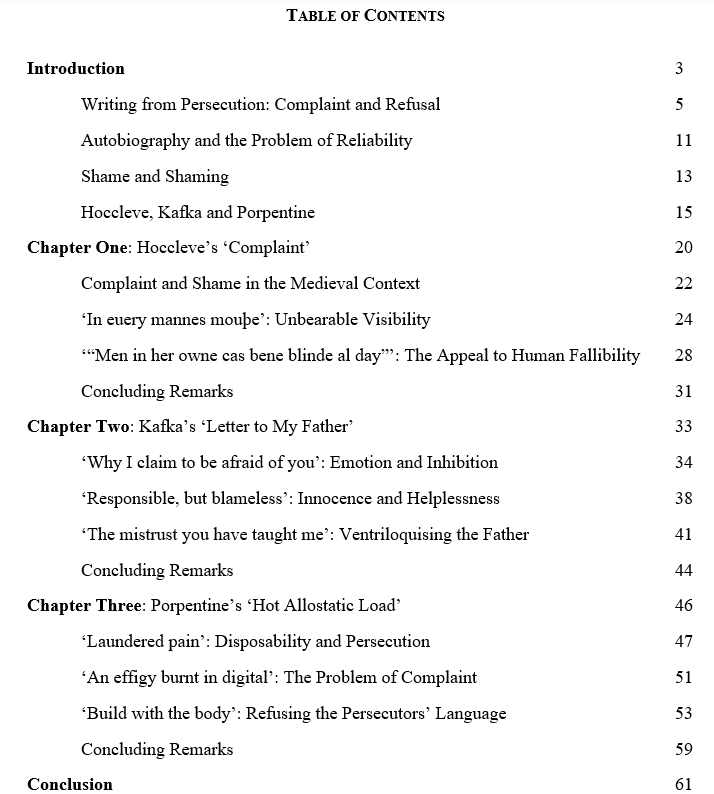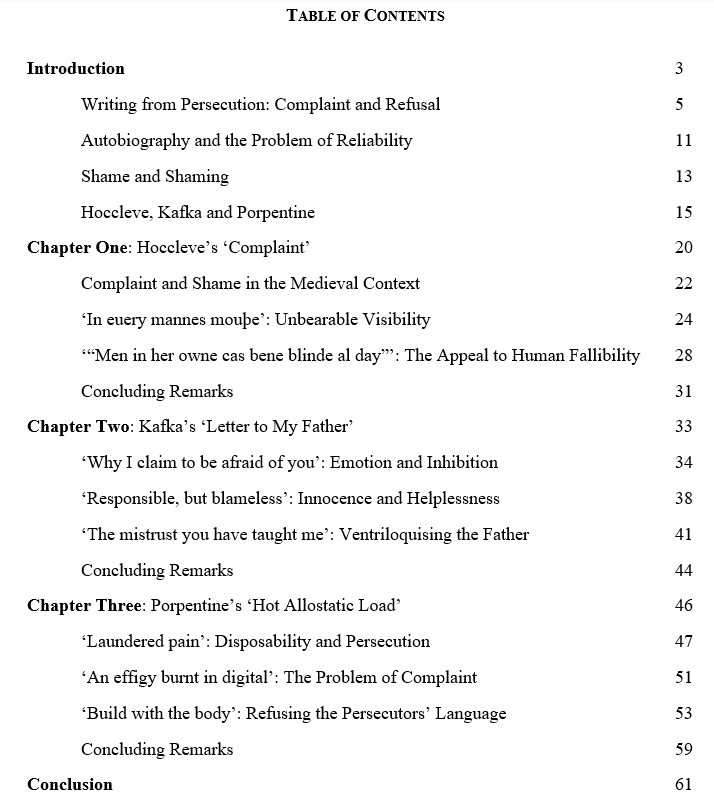 What formatting and referencing rules do you have to follow?
Like other academic texts, it's important that your dissertation follows the formatting guidelines set out by your university. You can lose marks unnecessarily over mistakes, so it's worth taking the time to get all these elements right.
Formatting guidelines concern things like:
font size
line spacing
headings
page numbers
punctuation
title pages
presentation of tables and figures
If you're unsure about the formatting requirements, check with your supervisor or department. You can lose marks unnecessarily over mistakes, so it's worth taking the time to get all these elements right.
How will you reference your sources?
Referencing means properly listing the sources you cite and refer to in your dissertation, so that the reader can find them. This avoids plagiarism by acknowledging where you've used the work of others.
Keep track of everything you read as you prepare your dissertation. The key information to note down for a reference is:
The author
The publication date
The title
Page numbers for the parts you refer to (especially when using direct quotes)
Different referencing styles each have their own specific rules for how to reference. The most commonly used styles in UK universities are listed below.
Harvard referencing &
APA style
An author–date citation in brackets in the text…
…corresponding to an entry in the alphabetised reference list at the end.
Vancouver referencing
A superscript or bracketed reference number in the text…
…corresponding to an entry in the numbered reference list at the end.
MHRA referencing
A footnote in the text that gives full source information…
…and an alphabetised bibliography at the end listing all sources.
You can use the free APA Reference Generator to automatically create and store your references.
Frequently asked questions about dissertations
You have already voted. Thanks :-)
Your vote is saved :-)
Processing your vote...