University Policies on AI Writing Tools | Overview & List
Educators are in the process of working out how to respond to AI writing tools like ChatGPT, and many students (and instructors) are unsure exactly what is allowed right now.
Our research into the current guidelines of the top 100 universities in the UK indicates that most don't have definitive guidelines yet and that individual instructors normally decide what's allowed in their courses for now. Specifically, we found five responses to AI writing tools from universities:
At 61% of universities, there seem to be

no clear guidance or policy

so far.
At 8% of universities, the tools are

banned outright

.
At 9% of universities, the tools are

banned by default unless instructors say otherwise

.
At 10% of universities,

individual instructors decide

their own policy for now.
At 12% of universities, the tools are 

allowed (with citation) unless instructors prohibit them

.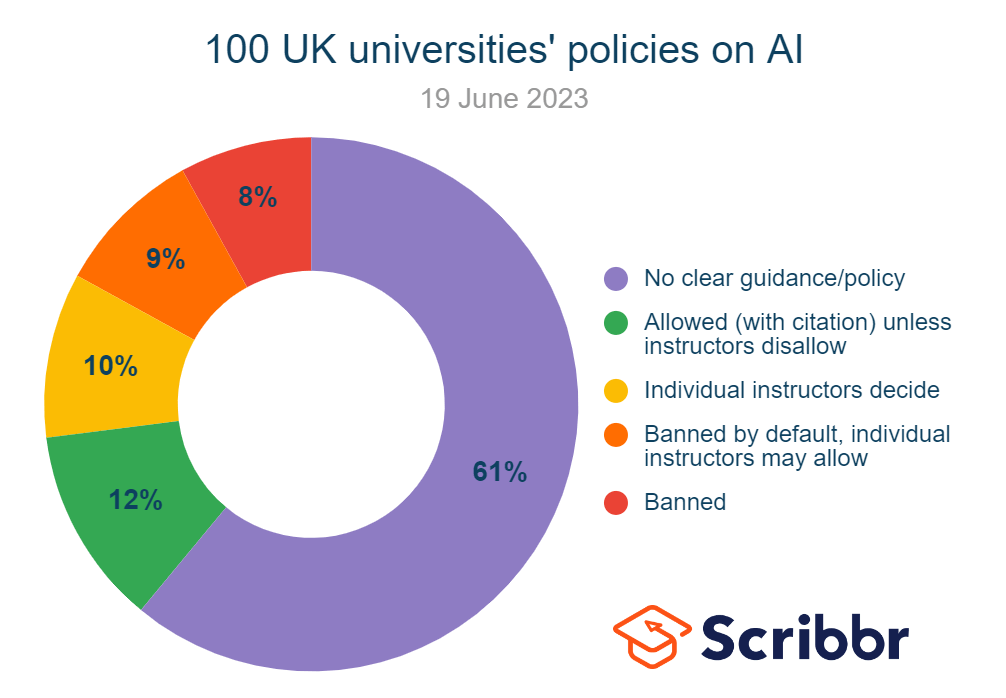 If you're unsure what is allowed in your case, always check your course guidelines or ask your instructor directly. Read on for a general summary of university stances so far and a table linking to specific guidance from the top 100 universities.
University stances so far
As explained above, even when there's a default AI policy in place, individual instructors normally have the freedom to depart from it and decide what's allowed in their courses. When no university-wide policy is in place, instructors independently decide on rules for their courses.
The resources currently available from universities are mainly guidelines for instructors or students, not official policies. Instructors are advised to create their own rules and communicate them clearly to students in their course guidelines and in class. The main approaches an instructor might decide on are:
Banning the use of AI writing tools for assignments: Instructors may decide that these tools are incompatible with the learning objectives of your course and prohibit their use entirely. This is likely to be a common policy for now. AI detectors may be used to enforce this rule.
Allowing AI writing tools in some cases: You may be told to use AI only for specific purposes (e.g., only for research, not writing), only for special assignments, or only with permission. You may also have to cite ChatGPT (or whatever tool you used) and describe how you used it.
Allowing AI writing tools generally, when appropriately cited: Some instructors may decide to allow the free use of these tools in any assignment. They will usually still require you to cite them and possibly to describe in detail how they were used.
While it's up to individual instructors to determine their policies, very few instructors right now will allow you to use AI writing tools freely without citing them. Universities generally agree that presenting AI-generated writing as your own work is plagiarism (or at least academic dishonesty).
List of university policies and guidelines
The table below provides links to resources on the current policies or guidelines of the top 100 UK universities (according to the Times Higher Education rankings for 2023). You can also check out the data in more detail in our research spreadsheet.
In each case, we tried to find the most definitive guidance available from the university. Because this technology is developing quickly and universities are in the middle of a semester, they normally don't have a definitive policy statement yet. Most commonly, we were able to find:
Resources for instructors, advising them on how to develop their own policy on these tools
Resources for students, clarifying the university's expectations
Statements from faculty quoted in news articles
The table is organised alphabetically by university name and divided into three tabs for ease of navigation. Just find and click on your university's name. For many universities, we weren't able to find any information online yet. We will update the table as more information becomes available.
* No information online yet. We aim to update this article as more information becomes available. Please reach out to us at ai-tools@scribbr.com if you have a correction or update about the AI policy of your university.
Other interesting articles
If you want to know more about ChatGPT, AI tools, fallacies, and research bias, make sure to check out some of our other articles with explanations and examples.
Frequently asked questions
Cite this Scribbr article
If you want to cite this source, you can copy and paste the citation or click the 'Cite this Scribbr article' button to automatically add the citation to our free Reference Generator.
You have already voted. Thanks :-)
Your vote is saved :-)
Processing your vote...